• Friday 8 February 2019

Sheared Wit at the Kino-Teatr, 43-49 Norman Road, St. Leonards-on-Sea, East Sussex TN38 0EG, playing live with film by Mark French
7.30pm, free admission
LEFT: Afrit Nebula play live at the Kino-Teatr, St Leonards on Sea, 8 February 2019.
"Kwaidan AI" is a composition by the band, incorporating Japanese ghosts and bots. It inspired a film by Hastings film-maker Mark French. Here, the film (which was screened behind the band while they played) is mingled with live footage of the band.
For the full film, with studio soundtrack, see our Music page.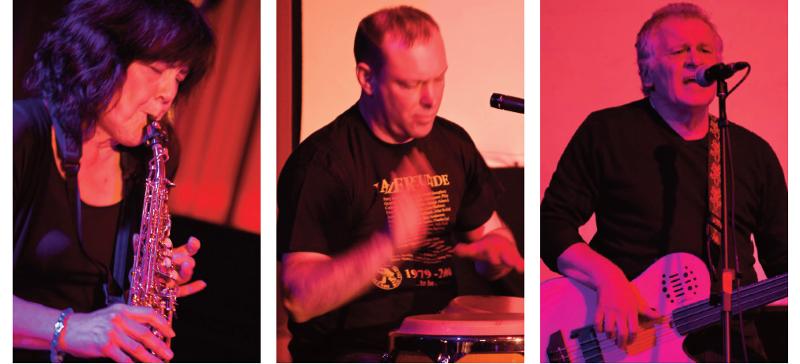 Previously...
29 DECEMBER 2018 – Weird Shit at Borough Wines, Hastings
30 SEPTEMBER 2018 – Weird Shit at Borough Wines, Hastings
30 JUNE 2018 – St Leonards Festival
3 JUNE 2018 – Hastings Jazz & Blues Festival
26 NOVEMBER 2017 – The Jenny Lind, Hastings
28 FEBRUARY 2017 – Mrs Yarrington's Music Club, Battle
10 SEPTEMBER 2016 – The Big Green Cardigan festival, Sedlescombe
3 SEPTEMBER 2016 – Nico's, St Leonards
2 FEBRUARY 2016 – Mrs Yarrington's Music Club, Battle
5 DECEMBER 2015 – The Electric Palace, Hastings
14 NOVEMBER 2015 – The Room, London N17
26 JUNE 2015 – The Respond Academy, St Leonards
27 MAY 2015 – Mrs Yarrington's Music Club, Battle
10 MAY 2015 – The Crown, Hastings
29 MARCH 2015 – The Stag, Hastings