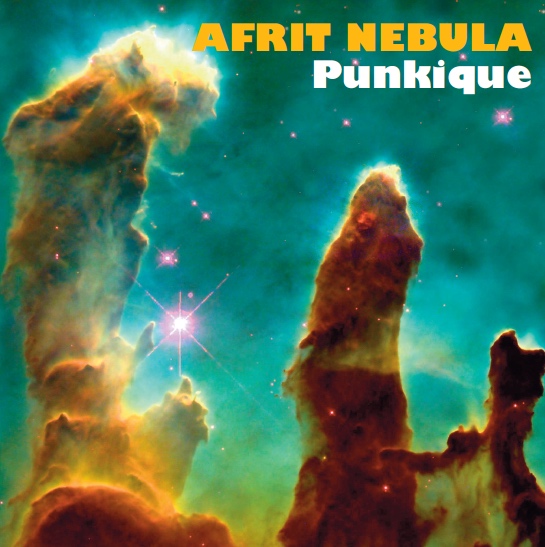 Afrit Nebula's debut release is the EP Punkique, featuring compositions by all three of the band and a Jimi Hendrix cover. The album can be streamed and downloaded here. The tracks are:
BULGARIAN ROCK (Elaine Edwards)
Lyrics and cover artwork are also available to be downloaded at our Bandcamp page. Enjoy!
UPDATE, SEPT 2017: Afrit Nebula's first full-length album, recorded in August, is presently being mastered and manufactured for release later in the autumn. More news soon....
UNIQUE PUNKIQUE
Afrit Nebula's debut EP

When I reviewed Afrit Nebula's first gig at The Stag in Issue 28 (April 17) I was struck by the singularity of their sound. I was also surprised by the range of textures and moods they could generate from a small line-up, minus a conventional drum kit and the harmonic support of keyboards. The trio of Elaine Edwards on saxes, Ken Edwards on bass/vocals and Jamie Harris on percussion/vocals had fused elements of avant-jazz, folk-rock and world music to create a distinctive musical identity.
This is reinforced in their new EP release 'Punkique'. The title track opens with deceptive simplicity with staccato notes from Elaine's tenor sax punctuating Jamie's intricate percussion pattern, a rhythm from Mozambique - or maybe a pulse from the North African deserts, the haunt of the cunning 'afrit' spirit. Counterpointed vocals from Jamie and Ken evoke some punkish sprite who flickers in and out of existence like a voudon entity doing the quantum leap. A tenor sax solo wails over the tribal beat as the vocalists pursue this enigmatic creature who ultimately evades them. 'Now I can see you…now you are nowhere…'
The second piece is rock'n'roll but not as you might know it from your average tribute band. The Afrits' cover of Hendrix's 'Fire' raunches along with Elaine's rasping tenor playing Jimi's part over Ken's fuzz bass. Jamie delivers a fiery vocal, propelled by his hand drums and the driving riff. The track redefines the power trio concept, proving that you don't need a Strat and wall-to-wall Marshall stacks to deliver a totally convincing take on the song.
Elaine's composition 'Bulgarian Rock' is closer to another Edwards joint project - The Moors. The piece draws on Eastern European folk melody and its complex rhythms, in this case 7/8. Elaine is playing soprano sax here, and is as lyrical on the smaller horn as she is tough on the tenor. She explores the tune in a haunting solo, loops and spirals of sound that move right to the edge, like Ornette Coleman's famous 'harmolodic' improvisations, but finally resolve.
The final track on the EP is Jamie Harris's 'People Chant', a visceral holler, stark as a work song. It begins wordlessly, a slow incantation from Jamie's falsetto over Ken, followed by an intense soprano sax passage in the mode of John Coltrane, a shamanistic cry that exploits all the sonorities of the instrument. Then Jamie's words emerge: '…people calling…people in boats…people in the sea…speak out…stop what you're doing…' The archetypal plea for humanity suddenly acquires a highly topical and specific resonance.
This album challenges narrow preconceptions about musical genre. But the originality of Afrit Nebula's approach rewards you as you listen again - and again. The music is also very danceable - those polyrhythms could have you shaking all over…

Paul Green (Hastings Independent News, November 2015)